As soon as the Royal Air Force left the Manx Government acquired many of the assets built by the R.A.F. for conversion to badly needed temporary family accommodation. Due to the construction methods they were badly affected by damp and were demolished as better accommodation became available. The old gymnasium and church still remain as a Parish Hall today.
The Manx Government and the Air Ministry meanwhile were pondering as to what to do with the airfield. Tynwald accepted the offer made by the Air Ministry to purchase the 400 acres of land back for the original price paid collectively to the land owners in 1940 -- a total of £23,700. The buildings and services where included in the price as a gesture of appreciation for their co operation during the war. The Air Ministry did however stipulate that the runways should be kept intact and that no building should take place within the perimeter track. The airfield was now in the control of the Isle of Man Government Property Trustees and was put up for auction as a whole entity. It was purchased for £33,000 by Mr Morrey and is still owned by the family today.
Some 50 odd years later the the airfield is now farmed, two of the three runways are not developed and are indeed used by the Andreas Gliding Club and a number of Microlight enthusiasts. Many of the dispersals and buildings are still there, just! but to walk around that once busy perimeter track one can feel an air of history still there. This picture shows the Gun Butts & Turret Range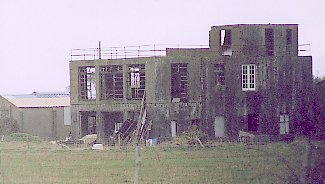 The old control tower with trees growing through windows, the rifle range butts, and many dispersals still remind any aviation minded visitor of the activity and the life that once went on here. Let us not forget also the twenty three R.A.F. servicemen who lost their lives at Andreas. Their graves are in the church yard of St Andrews Church whose tower still remains stunted today.
What happened to the stones removed from the tower? They were all numbered and carefully stowed for rebuilding after the war. Well it is said that the church wardens of the day elected to accept a sum of money with which they purchased an electric powered blower for the church organ.